Ba'kii Kum
Ba'kii Kum

A quiet Shad village set in a small ravine in Maroon Valley.
Rooms
13
Traders
14
Chests
Normal
3
Bronze
1
Silver
1
Total
5
Ba'kii Kum is a location in CrossWorlds. It is a small village inhabited primarily by Shad, and located at the western end of Maroon Valley. It is the third town reached in the game.
Ba'kii Kum
Ba'kii Kum is the home of the native people of Shadoon, the Shad. The name derives from the language the Shad speak and roughly translates to Burned Village. Quite fitting because a normal day in Ba'kii Kum has a temperature of 36° Celsius.

The greatest attraction of the village is its market and culture and a statue which Seekers must visit before they can enter Faj'ro Temple. Other than that, they live off what Maroon Valley offers them. Water from cacti, meat from Vulturbines, and plants from the oasis. The Shad try to live a life close to nature and most technology found in Ba'kii Kum is a product of the humans' relationship with them or broken parts left behind by the Track of the Ancients.
-Encyclopedia entry
Ba'kii Kum has two large main areas. The northern one, which connects to Maroon Valley, has a large solar farm, while the southern one holds the market to the east and the Quest Hub to the west.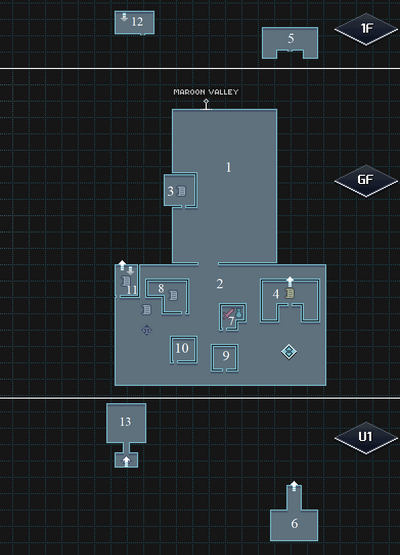 Areas of Ba'kii Kum
#
Area Name
1
Solar Farm
2
Market

Landmark: Plaza

3
Baki Guard HQ
4
Seeker Hub
5
Seeker Hub 2nd Floor
6
Seeker Hub Cellar
7
Shop
8
Arid Breeze HQ
9
Dusty Home
10
Shad Home
11
Baazar House
12
Baazar House Storage
13
Distillery
There are 6 types of botanic destructibles found in Ba'kii Kum.
To reach the Sprout of Space rare destructible, start from the Bazaar House 2nd floor,from here it is possible to jump onto the roofs to the right, use the pillar to reach the roof of the Arid Breeze HQ.Walk north into the next zone to find it.
| | Name | Location | Merchandise |
| --- | --- | --- | --- |
| | Baki Arsenal | Shop | |
| | Baki Oasis | Shop | |
Name
Location
Trade Offers
Ba'kii Kum Heals
Market

Trade Offers
Chef Sandwich

Veggie Set x 2 950 Credits

Sweet Berry Tea

Veggie Set Fruit Set Spice Set 1050 Credits

Ba'kii Kum Buffs
Market

Trade Offers
Flaming Bun

Fruit Set x 2 550 Credits

Fruit Salad

Fruit Set x 2 550 Credits

Tofu Cracker

Veggie Set x 2 550 Credits

Veggie Wraps

Veggie Set x 2 550 Credits

Ba'kii Kum Discount
Market

Trade Offers
LV24Rapier Carrot

Frosted Carrot Vivid Water x 14Ancient Earth x 3Poison Stinger x 5 8870 Credits

LV24Fin Cap

Old Bones x 16Rainbow Gem x 3Poison Stinger x 4Dry Fin x 2 9180 Credits

LV24Dessert Vest

Crystal Leek x 14Palmapple Seed x 10Cactone Fruit x 10Squishy Teeth 9230 Credits

LV24Desert Sandals

Tough Sand x 21Arid Lumber x 12Helix Relic x 9Phoenix Feather x 3 9050 Credits

Ba'kii Kum Weapons
Market

Trade Offers
LV28Hidden Blade

Refined Metal x 7Cactone Fruit x 7Poison Stinger x 7Hardened Liver 17770 Credits

LV29Gunner's Trigger

Refined Metal x 11Maroon Chestnut x 3Laser Eyes Metal Gears x 4 19210 Credits

LV30Maverick Edge

Old Bones x 22Ancient Earth x 4Dry Fin x 9Magma Residue x 2 20530 Credits

LV31Western Starfist

Refined Metal x 12Palmapple Seed x 9Phoenix Feather x 7Squishy Teeth x 4 23460 Credits

Ba'kii Kum Head
Market

Trade Offers
LV28Nomadic Turban

Tough Sand x 27Glaring Rock x 14Phoenix Feather x 4Drill Stone x 4 20280 Credits

LV30Chilling Veil

Cactone Fruit x 17Helix Relic x 17Rainbow Gem x 4Jelly Extract x 2 23300 Credits

LV31Shiny Glasses

Tough Sand x 29Crystal Leek x 12Lucid Shard x 4Laser Eyes x 2 25720 Credits

Ba'kii Kum Torso
Market

Trade Offers
LV29Assassin Garb

Tough Sand x 24Ancient Earth x 7Poison Stinger x 6Squishy Teeth x 3 20280 Credits

LV30Magic Robe

Vivid Water x 19Helix Relic x 8Butter Silk x 5Magma Residue 23300 Credits

LV31Crystal Plate

Crystal Leek x 33Rainbow Gem x 8Lucid Shard x 7Drill Stone x 6 25720 Credits

Ba'kii Kum Legs
Market

Trade Offers
LV28Curly Slippers

Old Bones x 19Cactone Fruit x 14Maroon Chestnut x 4Phoenix Feather x 5 17970 Credits

LV29Lavish Anchors

Refined Metal x 9Old Bones x 17Lucid Shard x 3Hardened Liver x 2 19910 Credits

LV30Carpet Runners

Crystal Leek x 18Arid Lumber x 16Dry Fin x 6Butter Silk x 4 22810 Credits

Ba'kii Kum Maroon Loot
Market

Trade Offers
Dry Fin

Poison Stinger x 2Tough Sand x 2 600 Credits

Drill Stone

Poison Stinger Dry Fin Arid Lumber Helix Relic 700 Credits

Phoenix Feather

Poison Stinger Dry Fin Arid Lumber Glaring Rock 800 Credits

Squishy Teeth

Drill Stone Phoenix Feather Rainbow Gem 1050 Credits

Ba'kii Kum Temple Loot
Market
Unlocked reaching Faj'ro Temple

Trade Offers
Butter Silk

Poison Stinger x 2Drill Stone Squishy Teeth Rainbow Gem 1300 Credits

Jelly Extract

Dry Fin Butter Silk Maroon Chestnut 1150 Credits

Magma Residue

Phoenix Feather x 2Jelly Extract Ancient Earth Rainbow Gem 2250 Credits

Laser Eyes

Hardened Liver Jelly Extract Lucid Shard Rainbow Gem 2400 Credits

Ba'kii Kum Metal
Market

Trade Offers
Junk Metal

Tough Sand x 2Old Bones Vivid Water 90 Credits

Refined Metal

Junk Metal x 2Arid Lumber x 2Glaring Rock Helix Relic 450 Credits

Ba'kii Kum Trade Sets
Market

Trade Offers
Veggie Set

Vivid Water Crystal Leek Arid Lumber 100 Credits

Fruit Set

Tough Sand x 2Palmapple Seed 100 Credits

Spice Set

Rainbow Gem Maroon Chestnut 250 Credits

Ba'kii Kum Refreshments
Market

Trade Offers
Vanilla Ice Cream

Bergen Ice Cactone Fruit Fruit Set 600 Credits

Crystal Water

Vivid Water x 5Crystal Leek x 5Spice Set 888 Credits

The Digger
Market

Trade Offers
LV30Giga Spiral Drill

LV10Core Drill Spiral Gem Refined Metal x 20Drill Stone x 15 50000 Credits

Brewing
Distillery
Unlocked after the Steamy Challenge quest

Trade Offers
Brewing Kit: Bear

Vivid Water x 7Season Apples x 5Cactone Fruit x 4Bear Cicada x 2 2500 Credits

Brewing Kit: Crab

Common Planter x 7Ripe Apples x 5Helix Relic x 4Frozen Tear x 2 2500 Credits

Brewing Kit: Whale

Crystal Leek x 7Twilight Dew x 5Palmapple Seed x 4Crimson Dragonfly x 2 2500 Credits
The quests that can be started in Ba'kii Kum are:
| Acc. | Type | Contains | Location | Info |
| --- | --- | --- | --- | --- |
| 1 | Normal | 3 x Ancient Earth | Solar Farm | Go up the gorge by the boxes, go left and jump over the small solar panels. |
| 2 | Normal | 2 x Ancient Earth | Solar Farm | Come in by the Market on the waterfront of river. |
| 3 | Normal | 2 x Phoenix Feather | Market | Get in the palace, get off the balcony and jump on the right pillar. Then go south through the gorge. |
| 4 | Bronze | 1 x LV28Tattered Satchel | Market | Leave the Bazaar House Storage and jump from the balcony to the pillar and then on the booth |
| 5 | Silver | 1 x LV33Silver Chest Plate | Bazaar House | Start in the upper left. Jump directly from the shelf along the west wall over to the large central crate. |