Bergen Village
Bergen Village

A sleepy village hidden in the snowy heights of Mount Berg.
Rooms
23
Traders
12
Chests
Normal
11
Bronze
4
Silver
1
Gold
1
Total
17
Bergen Village, also known as simply Bergen, is a location in CrossWorlds. It is a small mountain village located at the top of Bergen Trail.
Bergen Village
Bergen is a small, snowy village near the top of Mount Bergen. It was founded next to a temple of the Ancients to turn it into a mine and exploit the resources inside. The large building north of the village was once used as an inn but is now used as the town hall and place of reception.
-Encyclopedia entry
Bergen Village is a maze of narrow alleys and tightly-clustered buildings. At the north end of the village, a large plaza holds a teleporter that is connected to CrossCentral. Just north of this is the village's main building, a former inn around which the rest of the village was built. It is currently used as a greeting hall.
The regions adjoining Bergen Village are Bergen Trail via Bergen South, Temple Mine via Temple Mine Entrance, and Maroon Valley via the sky rails in Diving Railway. The Ye Old Inn Teleporter in Bergen North connects directly to CrossCentral in Rhombus Square.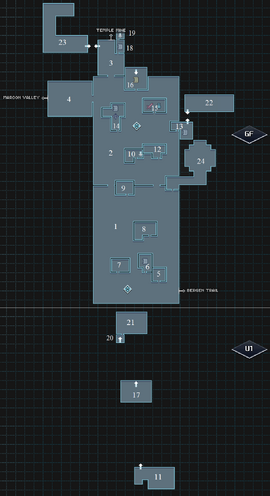 Rooms of Bergen Village
#
Room/Landmark
Floor
1
Bergen South

Landmark: South Checkpoint

GF
2
Bergen North

Landmark: Ye old Inn

GF
3
Temple Mine Entrance
GF
4
Diving Railway
GF
5
Storage Room
GF
6
Bergen Guard HQ
GF
7
Bergen Bar
GF
8
House 1
GF
9
House 2
GF
10
Omni Gilder's Base
GF
11
Omni Gilder's Basement
U1
12
Inn
GF
13
Bergen Monastery
GF
14
Trader's Den
GF
15
Shop
GF
16
Seeker Hub
GF
17
Seeker Hub Cellar
U1
18
Digging Mates HQ
GF
19
Miner's Elevator G
GF
20
Miner's Elevator B1
U1
21
New Mine #1
U1
22
Cave of Aspiration
GF
23
Cave of Progression
GF
24
Holiday Man Cave
GF
Bergen Village has 17 chests in total.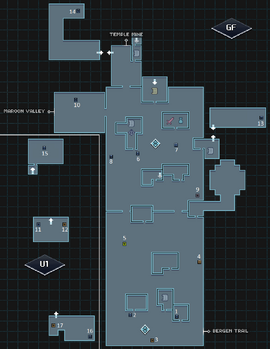 The Sprout of Valor rare destructible is on top of a roof in Bergen South. You must travel south on the rooftops from the Bergen North to reach it.
Most traders in Bergen Village are members of Bergen Trade & Metalwork, located in Trader's Den.
Bergen Heals – Located in Trader's Den
Bergen Buffs – Located in Trader's Den
Bergen Weapons – Located in Trader's Den
| Offered | Credits | Required |
| --- | --- | --- |
| LV19Climbing Pick | 5050 | 6x Refined Metal, 16x Pike Wood, 3x Winter Thorn, 1x Metal Gears |
| LV20Hardwood Stave | 5555 | 6x Bug Shell, 3x Frosted Carrot, 19x Feather Leaf, 14x Rusty Bits |
| LV21Copper Gull | 6180 | 10x Headphone Scraps, 7x Refined Metal, 3x Metal Gears, 1x Perforated Tophat |
| LV21Rocksplitter | 5970 | 10x Rock Beak, 11x Purple Ore Lump, 13x Rusty Bits, 5x Frozen Tear |
Bergen Head – Located in Trader's Den
Bergen Torso – Located in Trader's Den
Bergen Legs – Located in Trader's Den
Bergen Loot – Located in Trader's Den
Bergen Metals – Located in Trader's Den
Bergen Sets – Located in Trader's Den
Hatmaker – Located in Bergen North. Available after completing Fancy Tophat
Gem Dealer – Located in Trader's Den
Digging Mates Helmet – Located in Digging Mates HQ
There are two shops in Bergen Village, both in Shop (of course).
Bergen Provisions – Located in Shop
Bergen Weaponry – Located in Shop
The quests that can be started in Bergen Village are: